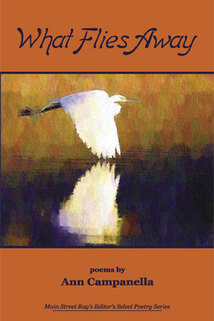 By ann campanella
What Flies Away
Poetry
We are riveted to these poems, as step by step we experience the loss, the grief, the mourning, and then the astounding resurrection. It's a book to read and read again. Every poem in the book is part of the journey, and the journey changes the reader. This is what poetry is about.
– Anthony S. Abbott, North Carolina Literary Hall of Fame
In this collection of searching poems, loss and sorrow are considered in their dread fullness and the heartache of grief is given resonant voice. But finally, there is hope, belief in tomorrow when "…your eyes will be lit with fire/and you will be alive." Here are poems of a faith genuine and bitterly achieved.
– Fred Chappell, Poet Laureate of North Carolina, 1997-2002 
These poems "…are essentially elegies written in advance. They are clear-sighted and unsentimental; at the same time, they are full of sentiment. I look forward to more of Ann Campanella's work."
– Maxine Kumin, winner of the Pulitzer Prize for poetry
"What Flies Away, is a must for anyone who loves poetry… for anyone who can appreciate the way language can take you on a journey far from home and lead you back again more aware and whole. I find Ann's words to have a sensitivity and a purity that is rare and profoundly beautiful."
– Amazon Reviewer
This collection of poems pulls on your heart strings and moves your soul.  The poems are crafted with magic …. This is a testament to the author's command over her craft…. Every poem tells a story with utmost honesty and sincerity—every emotion depicted in its purest form.
– Pooja Chilukuri, author of And Then There Was Jesus
What Flies Away encompasses so much of our human existence – grief over a father's passing, heartache over a mother caught in a disease, the joy and wonder of precious babies, the beauty of nature – and love of horses. Ann is a master wordsmith who has created a treasure for the heart.
– Linda Austin, author of Poems that come to Mind
My heart broke, broke more, then was transfixed by joy as I read this magnificent book of poetry by Ann Campanella, twice recipient of the Poet Laureate Award, the highest honor of the North Carolina Poetry Society.
– Literary Redhead, Book Reviewer